Hyundai 2-Stroke Petrol Chainsaw
Hyundai is a well-known brand when it comes to cars and motorbikes, and they are now popular in the tools industry thanks to their powerful tools that can undertake all jobs with ease. If you are currently on the lookout for a new chainsaw that is going to make cutting materials a breeze, then the Hyundai Petrol Chainsaw could be the answer (VIEW PRICE HERE!). This particular chainsaw is perfect for cutting logs and branches that overhang into areas they shouldn't, and is a chainsaw that is not only used domestically, but also professionally – which just goes to show it's very capable of handling a variety of jobs.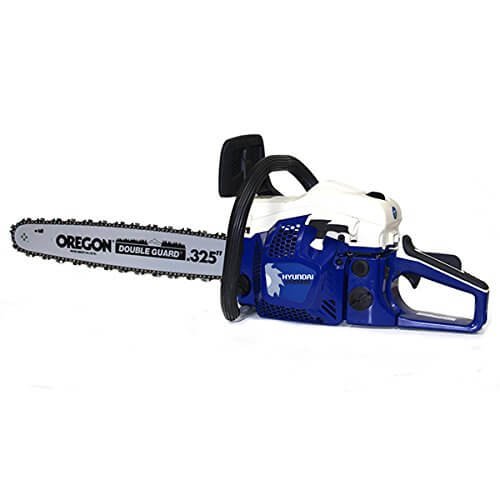 In terms of balance and durability, this chainsaw is the perfect tool, and along with its lightweight structure will ensure overhead jobs can be completed with ease. There are so many different uses for a chainsaw of this quality other than just cutting logs, and you may find plenty of other benefits of having one around. Whether you are a tree surgeon and you are going to be using a chainsaw on a daily basis, or just someone that spends a lot of time in the garden, this chainsaw will provide you with an easy to use experience that will complete any job effortlessly.
This product only weighs 5.2kg so it's very easy to transport from one job to another, and even though it's very lightweight when compared with other chainsaws, it's still robust and isn't going to succumb to any damage very easily. If you are interested in getting to know more about what this product offers, then have a look at some of its many features below: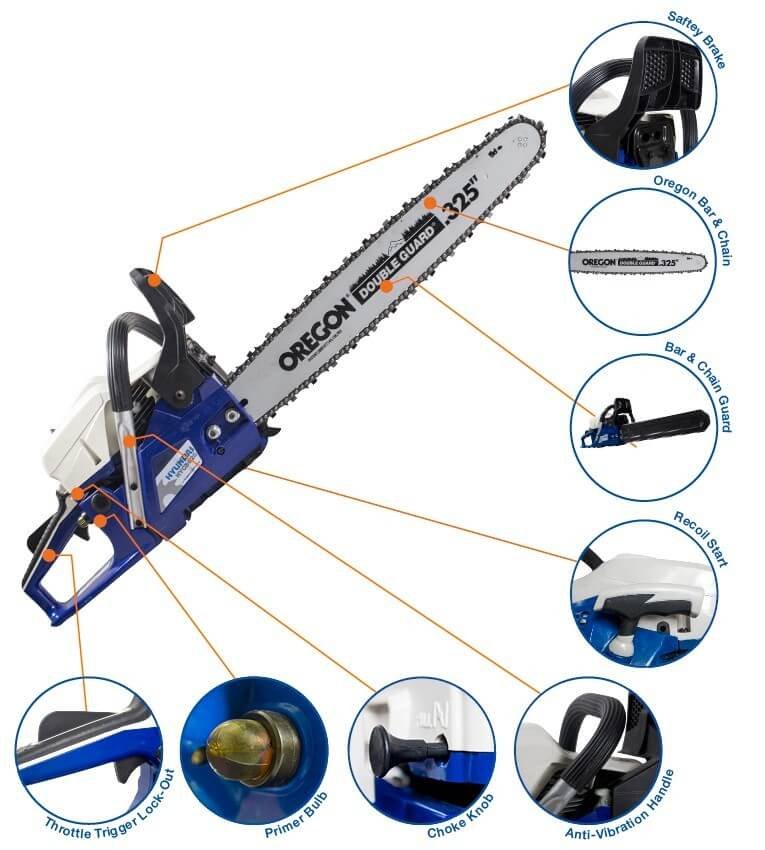 Oregon bar and chain – Hyundai chainsaws wouldn't be as good as they are without the quality bar and chain by Oregon. All chainsaws manufactured by Hyundai are fitted with the latest Oregon bar and chain which provides consumers with a chainsaw that is powerful and has the ability to cut through most logs like butter. Oregon is a popular brand among many chainsaws in the industry and you will find their name on most blades that come with them.
Lightweight – This chainsaw has an overall weight of just 5.2kg making it one of the most lightweight chainsaw designs around. If you are getting older and use chainsaws regularly you will find that they have too much weight to them and you will often have pains in your joints once you are finished – but not with this Hyundai chainsaw.
Safety in mind – There is a handy kickback feature implemented into this chainsaw which provides a much better safety environment not just for the operator, but also workers around them. Another safety feature is the front guard that protects the hand at all times.
Hyundai easy start engine – This chainsaw is powered by a Hyundai 3.2 hp easy start engine which will ensure users are able to start the engine quickly and without any problems. Hyundai have always provided great quality engines, whether that is in a vehicle or a petrol powered tool – you can be sure you are only going to get the best from Hyundai.
Automatic chain lubrication – The Oregon chain is automatically lubricated during operation as standard so you will not have to concentrate on anything other than the important job at hand.
Compact design – Hyundai wanted to create a chainsaw that was not only powerful but also compact and easy to use. They have definitely done that with this Hyundai model and users won't be strained when using for prolonged periods thanks to its lightweight structure.
Anti-vibration handle – The handle that is implemented into this chainsaw design was specifically made to provide a comfortable experience to the user, and along with the fact that it has anti-vibration technology means cutting is even more comfortable than ever before.
Safety brake – The safety brake feature is implemented to automatically stop the chain from operating if it detects a kickback. This means this chainsaw can prevent all kickbacks and it is safe for everybody to use.
Easy to assemble – This chainsaw comes with very easy to read instructions that make assembly very easy, so you can be sure you can be cutting logs within a matter of minutes after getting it out of the box.
Domestic & Professional use friendly – Whether you are using this chainsaw in your own garden or to go about your daily workload, you can ensure this Hyundai chainsaw isn't going to fail to impress in any job you undertake.
In terms of overall quality and power, it doesn't get much better than this Hyundai Petrol Chainsaw. There are plenty of other chainsaws out there that promise to be able to provide a quality experience when they don't, but the same can't be said for this Hyundai Chainsaw, it is pure brilliant. If you are a bit wary about buying products online, it would be important to have a look at some of the reviews this particular chainsaw has received over the years – it will certainly put your mind at ease when buying. All in all, if you are looking for a top quality chainsaw that is manufactured by a quality brand in Hyundai, then it doesn't get much better than this excellent piece of kit. You will be able to cut logs and overhanging branches with ease.
Summary
Features: Anti-vibrating handle – Domestic & Professional use – Safety brake – Compact – Automatic chain lubrication
Pricing: Mid-Range
Hyundai 2-Stroke 56 cc Petrol Chainsaw with 20 inch (50 cm) Oregon Bar HYC5620
Equipped with top quality 20 inch (50 cm) Oregon bar and chain
Powered by a Hyundai 3.2 HP easy-start two stroke engine
Low weight (5.2 kg) and balance for strain-free operation
Incorporates automatic chain lubrication and kick-back safety protection as standard
All Hyundai power equipment is covered with a 3 years warranty