Product
Black & Decker

Bosch

Makita

Title
Best Mid Range Electric Chainsaw
Best Affordable Electric Chainsaw
Black & Decker
Product

Bosch
Product

Title
Best Mid Range Electric Chainsaw
Top 3 Electric Chainsaws
If you have large trees in your garden, you will find that you will need to trim them every couple of years to keep them under control. Doing this by hand can be very hard work, which is why you need help from a chainsaw. Electric chainsaws are in many cases easier to use than the petrol equivalent, because you don't have to get petrol or worry about fumes. Here are the best three electric chainsaws available.
Black & Decker Review – Our Number 1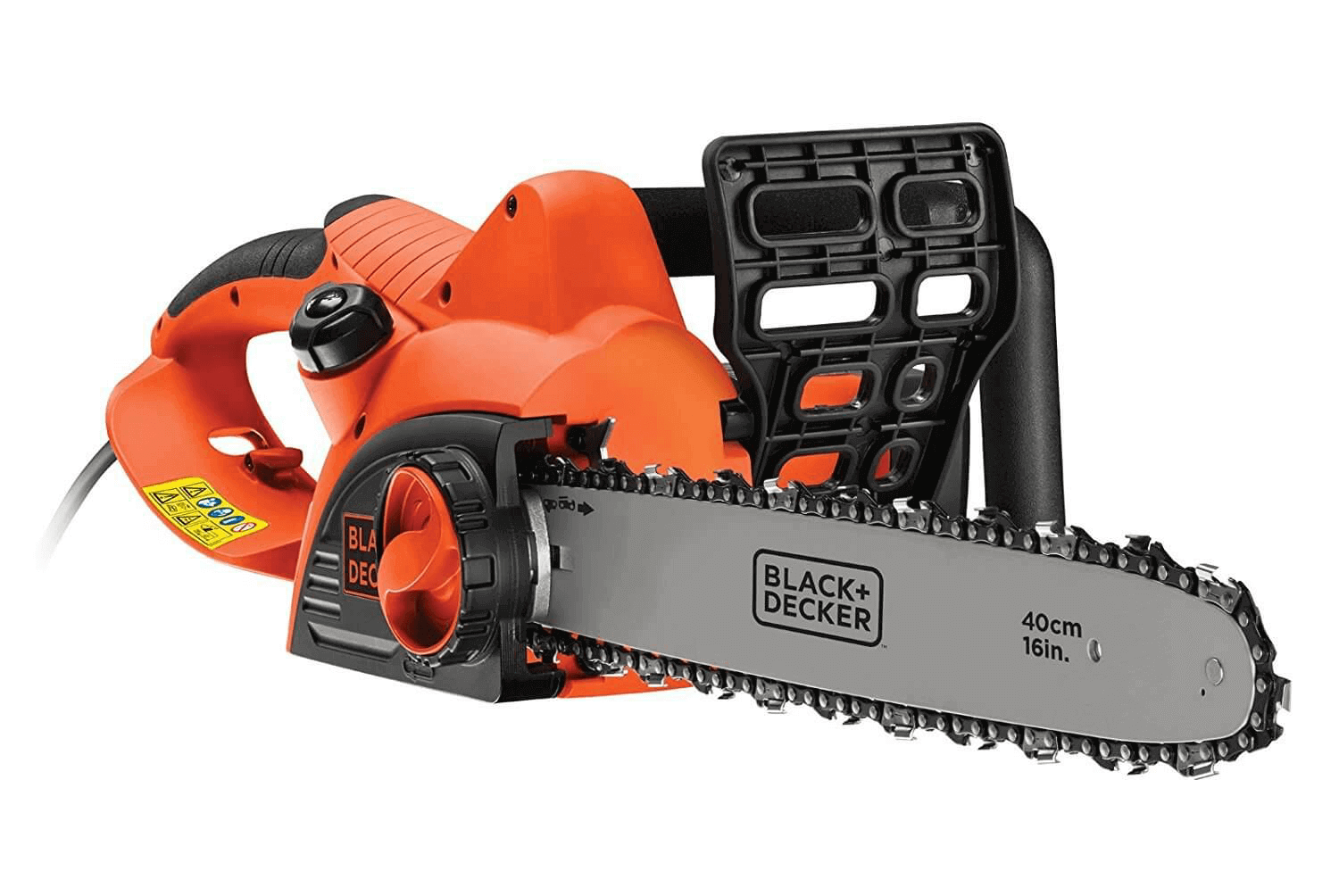 This product from Black and Decker (VIEW PRICE HERE!) is a high performance machine, boasting a powerful 2200 watt motor. Its strong built and integrated safety features make it a great choice. Here is why it this one has reached number one.
A powerful 2200 watt electric motor makes light work of even the biggest logs. It means that it can cut a 30cm log in just 6 seconds.
The simple tool free chain tensioner means you can fit new chains very quickly and easily.
A long 40cm bar length gives you a lot of scope for cutting even the biggest logs.
The GK2240T has an integrated automatic chain oiling system. This keeps the chain lubricated to prevent overheating and improve the quality of the cut.
This is a very powerful chainsaw that has impressive safety features built in to its design. It is also perfectly weighted to reduce the fatigue on hands and wrists. With all these features, it is well worth its number one spot.

Bosch AKE 40 Review – Number 2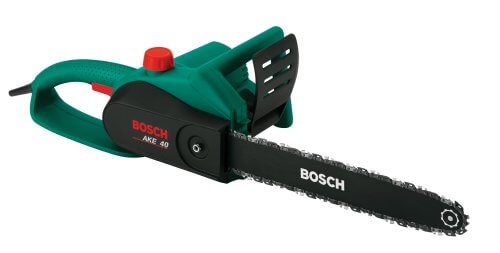 This chainsaw from Bosch has the high build quality you would expect from one of the leading power tool manufacturers. Its strong design and fast reliable cutting make it the perfect tool for cutting and trimming. Here are a few reasons why its number 2.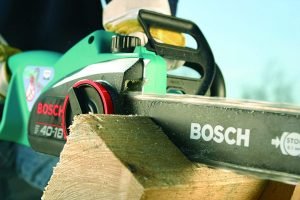 A powerful 1700 watt motor gives you amazing torque and high performance, ideal for those bigger logs.
Automatic lubrication helps keep the chain in top condition and prevent overheating and damage.
Changing and tensioning the chain is quick and easy with the SDS chain system. You won't need any tools or separate equipment.
The lightweight design means that the AKE 40 is just 4.1kg. This is perfect when you need to manoeuvre around at height or in awkward areas.
Overall, the AKE 40 chainsaw from Bosch is fast and reliable with many safety features. There is also an automatic kick-back safety break and audible safety warning.

Makita UC4041A/2 Review – Number 3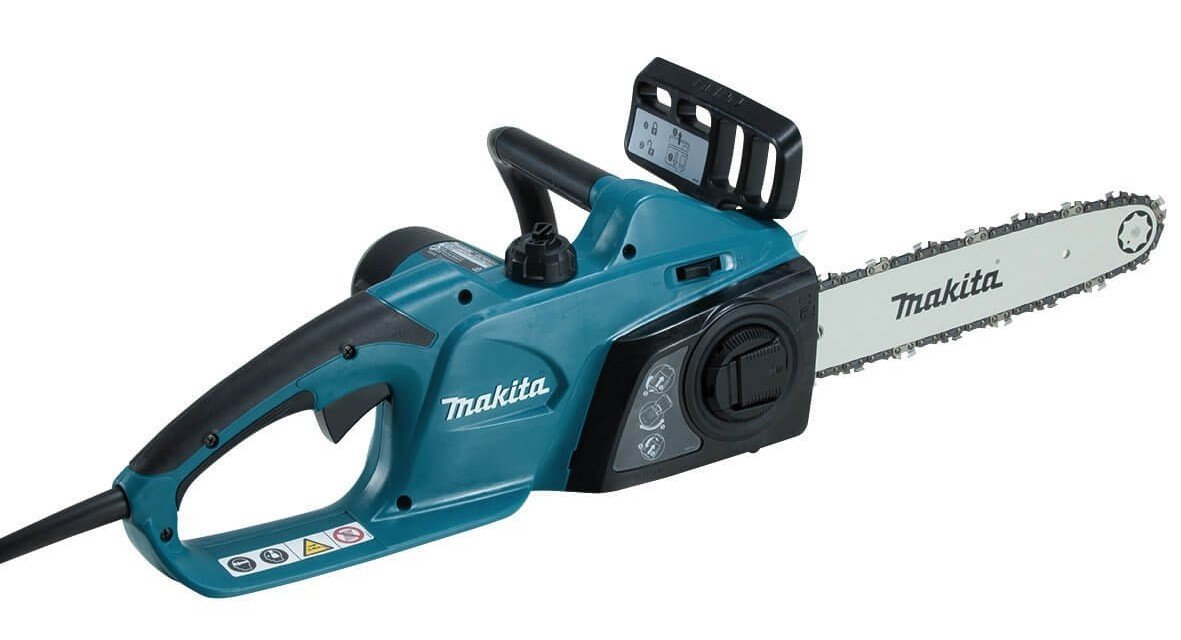 When talking about quality, there is one name that stands out amongst the crowd – Makita. The UC4041A/2 is a shining example of this quality and includes many other great features.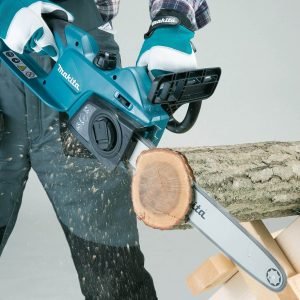 The fully adjustable, automatic chain oil pump keeps the chain cool and lubricated. This means you will get many hours use out of your chain.
Mechanical chain break prevents unwanted and potentially dangerous kick back.
Tool less chain replacement and adjustment so you can work with the minimum of fuss and equipment.
Powerful 1800 watt motor to cut through even the largest logs with ease.
The Makita UC4041A/2 chainsaw is a reliable and high performance tool that will give you fantastic flexibility. With its lightweight design and powerful motor, you can trim and cut trees for long periods without major fatigue. It is easy to see why the Makita reached its number three spot.

Verdict
Top of the list at number one was the Black and Decker GK2240T electric chainsaw. The enhanced safety features and durable design has made it a very good tool indeed. It is also helped by a very powerful 2200 watt motor that provides fast and effective cutting.